Alias
Koudelka
Level
20
HP
2116
MP
84
Element
-
-
Absorbs
-
-
-
Stats
STR
21
VIT
46
DEX
16
INT
28
PIE
29
MND
27
AGL
27
LUC
18
Evade
30
Magic Evade
30
Abilities
Triple Shot
Drops
Brown Glass Part
NOTE
-
This is something of a unique battle; firstly, Alias cannot be harmed by magical attacks so don't bother with them on him, and secondly, he cannot be hurt physically when he hides behind either the barrels or crates.
Equip Koudleka with a pistol of some sorts and James with a weapon of your choosing. Edward as usual, will attack physically.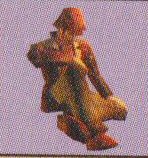 Target the barrels and crates with a spell or have Edward hit them, so that Alias has to waste a turn moving for cover. Alias will attack only from a distance with a six-shot pistol which will deal a fair amount of damage, so have James heal when needed.
When the barriers are gone, Alias will be vulnerable to physical attacks, so attack him with everything you've got, just remeberering to heal if your HP gets too low.
Community content is available under
CC-BY-SA
unless otherwise noted.