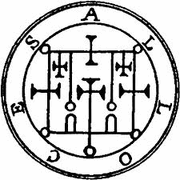 A demon of the Wilderness of War.
Level 6 Crest.
Man with a lion's face in bronze armour. Fights by the frontier Bastion, sometimes in support of the horses of friend Berith.
Lottery prize, Geppetto's Apartment

Wilderness of War, bottom row, center-right node.
Magic

Name

Base MP Cost

Description

Image

Ring

Pre-Completion

Arc Surge

35 MP
Increases Special Attack for all allies
Post Completion

Evil Born

32 MP
Small area Dark attack (knock down)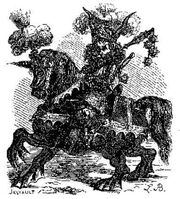 Alloces is a Great Duke of Hell, and who commands thirty-six legions of demons.
He is described as appearing in the shape of a knight mounted on an enormous horse, with the horse having dragon legs instead of hooves. His face has leonine characteristics; he has a ruddy complexion and burning eyes; and he speaks with much gravity.
He is said to provide good familiars, and to teach astronomy and liberal arts.
Community content is available under
CC-BY-SA
unless otherwise noted.