Alyosh
Shadow Hearts: From the New World
HP
280
MP
140
Element
Dark
Height
Abilities
Blood Loss

Evil Servant

Location
Garland Residence
Immunities
Poison

Deadly Poison
Paralysis
Seal
Instant Death
P-ATK Down
P-DEF Down
Sp-DEF Down


Calories
+3
Cat Coins
2 Bream
EXP Gained
1352
Cash
256
Souls Gained
2
Item Drops
Pure Root (10%)

Daphne Fruit (3%)

Snap Card
NOTE
-
Enemy in Shadow Hearts: From the New World
Bestiary Entry
Edit
Embodiment of the resentment felt by those who died unfair deaths. Hates being stared at in terror or amazement. Scoops out the eyeballs of offending gawkers.
Etymology
Edit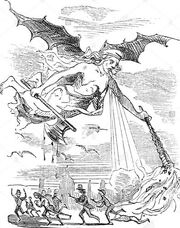 Alyosh is a mistranslation of Arioch, the name of a minor demon in Paradise Lost.
Community content is available under
CC-BY-SA
unless otherwise noted.