Arahabaki
Shadow Hearts: Covenant
HP
1000
MP
700
Element
Dark
Weight
Heavy
Abilities
Black Vortex
Location
Asuka Stone Platform
Immunities
Poison

Deadly Poison
Paralysis
Seal
Petrify
Slow
Delay
Instant Death
HP Down
P-ATK Down
Sp-ATK Down
P-DEF Down
Sp-DEF Down
Evade Down

EXP Gained
5000
Cash
4000
Souls Gained
4
Item Drops
Pure Root
NOTE
-
Bestiary Entry
Edit
Ancient god native to Japan. Still worshipped today by some, this wild-spirited god is known to sometimes mate with mortal women.
Etymology
Edit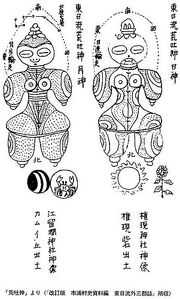 Atahabaki is believed to have been an ancient Japanese god of uncertain origins whose worship began roughly around 200AD.
There are many suggestions as to the nature of his worship - whether he was the god of iron smithing, of travellers, or nature, later becoming demonised due to worship by an enemy of the first Emperor of Japan.
However, the only previous mention of the god is in the Tōhoku Document (東日流外三郡誌), which may-or-may-not be a forgery, leaving the true history of the god uncertain.
Community content is available under
CC-BY-SA
unless otherwise noted.