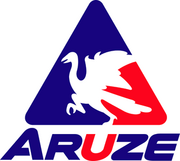 Aruze Corp. (アルゼ株式会社, Aruze Kabushiki-gaisha?, Japanese pronunciation: [aɽuze]) (JASDAQ: 6425), is a Japanese manufacturer of pachinko, slot machines and other gaming products. Aruze possesses licenses to both manufacture and distribute casino machines in the American states of Nevada, Mississippi and New Jersey. The company's corporate headquarters are in Tokyo.
Aruze Gaming America is a 100%-owned subsidiary based in Las Vegas. It owns 21% of Wynn Resorts. The company also maintains affiliates in Australia (Aruze Gaming Australia, formerly Pacific Gaming Pty. Ltd.) and South Africa (Aruze Gaming Africa (Pty) Ltd., formerly Universal Distributors of Nevada South Africa).
Universal
Edit
Universal Lease Co., Ltd was established in December 1969. It later changed its name to Universal Distributing of Nevada (UDN). Universal's greatest hit game was Mr. Do! in 1982, which spawned four sequels. Lady Bug was also a successful game, as well as the arcade adaption of Space Panic. Cashing-in on the success of laserdisc video games, Universal released Super Don Quix-ote in 1984, on a new standardized laserdisc video game system they called the Universal System 1. A new game was planned every six months for the Universal System 1, including a laserdisc adventure game based on Mr. Do!, but the company stopped producing arcade games in 1985, and Super Don Quix-ote ended up being the only game released for the system. In January 2005, the company became a wholly owned subsidiary of Aruze.
Aruze acts as a producer for the Shadow Heart's series. Their logo appears on the wrestling rings used in the Man Festival and on Debug Island.
External links
Edit
(Japanese)Official website (English) English part of official website
Community content is available under
CC-BY-SA
unless otherwise noted.