Asmodeus
Shadow Hearts: Covenant
HP
2880
MP
230
Element
Non-Elemental
Weight
Normal
Abilities
SP Lowering


Surge
Bent Space
Evil Crest

Location
Idar Flamme
Immunities
Poison

Deadly Poison
Paralysis
Seal
Petrify
Slow
Instant Death
HP Down
P-ATK Down
Sp-ATK Down
P-DEF Down
Evade Down

EXP Gained
14500
Cash
12000
Souls Gained
150
Item Drops
Warlock Earrings

NOTE
-
Boss battle with Rasputin fufilling his soul pact with Asmodeus.
Bestiary Entry
Edit
Demon god of ambition and desire. He sows the seeds of greed within each human and reaps the bloody bounty that renews itself with each generation.

Etymology
Edit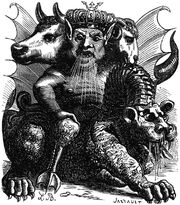 In Christianity and ancient Hebrew texts, Asmodeus was a demon who was usually paired with, or identified as the demon Satan.
He appears in numerous different texts, each with a different representation and role in the demonic hierarchy.
In the Ars Goetia, Asmodeus is ranked thirty-second amongst Hell's hierarchy, and is described as having three heads - one of a bull, a human, and a ram; the tail of a serpent, and from his six mouths can breathe fire. He rides upon an infernal dragon, and governs seventy-two legions of lesser demons.
In other texts he appears as one of the "Seven Princes of Hell" - one corresponding to each of the deadly sins - where he is the governs over lust, lascivity and carnal desire.
This may be the main reason why in Covenant, he portrayed as a "God of Desire".
Community content is available under
CC-BY-SA
unless otherwise noted.