Baal
Shadow Hearts: Covenant
HP
7200
MP
860
Element
Non-Elemental
Weight
Normal
Abilities
Mental Break


Gale
Gale Crest
Meteor Storm

Location
Dollhouse
Immunities
Poison

Deadly Poison
Paralysis
Seal
Petrify
Slow
Delay
Instant Death
HP Down
P-ATK Down
Sp-ATK Down
P-DEF Down
Sp-DEF Down


EXP Gained
75000
Cash
50000
Souls Gained
300
Item Drops
Flare Brooch

NOTE
-
God of Darkness and Lord of the Demon World.
Demon lord of all negative human emotions. His power takes root in the human soul of man and bears the dark fruit of greed, paranoia, and hatred.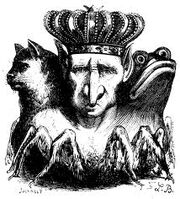 Baal is a (literally) demonised interpretation of the Canaanite god of the same name.
As a god, he is often depicted as a bull, or having bull horns. As a demon, he was said to assume the form of a man, cat, toad - or an amalgamation of the three.
In the demonic hierarchy, he has been variously assigned the rank of a King of Hell, or a Duke, commanding sixty-seven legions of lesser demons.
In other texts he appears as one of the "Seven Princes of Hell" - one corresponding to each of the deadly sins - where, as Beelzebub he is the governs over gluttony.
Community content is available under
CC-BY-SA
unless otherwise noted.