Bestiary Entry
Dating back to over three million years ago, it is mankind's greatest enemy. Millions can easily live in the smallest crevices of the kitchen or bath.
Appearances outside Shadow Hearts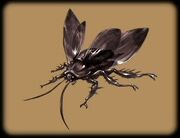 Bailey have also appeared in Chaos Wars, and are fought as one of the many cross-over enemies from the Shadow Hearts series.
Entry
A huge cockroach universally hated. Its body is soft because it sheds its skin, and it knows all too well that its own belly feels totally disgusting. So, whenever it sees humans, it tries to rub its stomach on their faces.
Etymology
The Japanese name, "バギー", ("Buggy"), is a reference to the monster of the same name in the first Shadow Hearts, Buggy.
Community content is available under
CC-BY-SA
unless otherwise noted.