Bestiary Entry
Edit
Monstrous dog creature that inhabits dark places. It has no eyes, but uses sonar, like a bat, to detect prey. It is said that touching it brings bad luck.
Etymology
Edit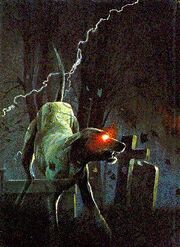 The Barghest is a supernatural, black dog with huge teeth and claws, from North English folklore.
It is said to be an omen of death, and tragedy is said to befall those who encounter one. While it can take the form of a monsterous black dog, it also manifests as the sound of rattling chains.
An usual feature is that it is said to lead groups of dogs in a "funeral procession" in mourning of a major figure that is soon to die.
Community content is available under
CC-BY-SA
unless otherwise noted.