Bifronze
Shadow Hearts
HP
165
MP
0
Element
Wind
Stats
P-ATK
P-DEF
154
45
Sp-ATK
Sp-DEF
68
45
AGL
LUC
42
42
Abilities
Knockback
Location
Rouen
Immunities
-
EXP Gained
860
Cash
860
Soul Worth
2
Item Drops
Thera Root
NOTE
-
Shadow Hearts
HP
170
MP
0
Element
Wind
Stats
P-ATK
P-DEF
154
45
Sp-ATK
Sp-DEF
68
45
AGL
LUC
42
42
Abilities
Knockback
Location
Rouen
Immunities
-
EXP Gained
860
Cash
860
Soul Worth
2
Item Drops
Thera Root
NOTE
-
Bestiary Info
Edit
Small demon that swings its rusted sickle. It wants to destroy everything in sight. A variation of Wind Shear.
Etymology
Edit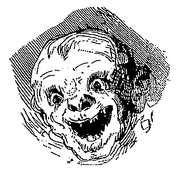 Bifronze is a slight misromanisation of "Bifrons"; one of the 72 demons of hell.
He is an Earl of Hell, commanding sixty legions of demons and teaches science and the arts, the virtues of the gems and woods, herbs, and can move corpses from their orginal grave into other places, sometimes putting magick lights on their empty graves that flicker like candles.
He had no set appearance, and was able to change his form from that of a monster to a man.
Community content is available under
CC-BY-SA
unless otherwise noted.