Black Cat
Koudelka
Level
20~45
HP
729~2209
MP
90~240
Element
-
-
Absorbs
-
-
-
Stats
STR
15~23
VIT
78~85
DEX
17~28
INT
21~37
PIE
30~49
MND
19~36
AGL
18~28
LUC
20~30
Evade
40
Magic Evade
55
Abilities

Shock Max
Black Hole
Heal

Drops
Cat's Eye
NOTE
-
Initially to be found in the Storage Room, on the lower floors, a variant can be encountered in the final area of the game, the Bell Tower Spire which drops Koudelka's pendant, if the player didn't collect the pendant earlier in the game.
"A witch's familiar. It is said the anyone who crosses its path will be cursed with bad luck for seven years. It likes to catch mice in the monastery grounds, and frequently likes to drink from the fountain in the courtyard..."
Appearance
Edit
This mangy moggy appears as either a grey or black coated feline, with a penchant for finding women's jewelry.
Black cats are quite easy to defeat by either magic or by a physical attack. They seldom appear with other monsters and pose very little threat.
NOTE: Enemies in Koudelka are fought on specific screens.
The screens that the regular Black Cat can be encountered in are:
The Special variant appears only after the Disc 4 point-of-no-return.
Etymology
Edit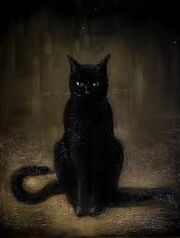 Crossing the path of a black cat has often been considered as being very unlucky by the superstitious. The idea supposedly comes from the concept of witches and demons transforming into them when they wished to make a speedy getaway. Sometimes, white cats are regarded also as being unlucky.
In the British Isles and Ireland though, If the black cat crosses your path from right to left it is 'bad luck'. If it crosses your path from left to right, it is 'good luck'.
Community content is available under
CC-BY-SA
unless otherwise noted.