Bestiary Info
Edit
Water ogre used by warlocks. It's powerful and uses magic. Don't let it's beautifully choreographed attacks distract you.
The size of this thing is distraction enough! It's also a good indicator of its HP. This is one tough cookie. Tread carefully, and bring a few Imp's Fangs. He has a Petrification attack to accompany a strong physical attack and a moderately powerful Flash Flood skill. Scirocco Blast is your friend here! The Red Ogre is its counterpart who is more physical attack based and uses SP lowering, both of this creatures were called by Albert Simon to tend to any unwanted guests.
Etymology
Edit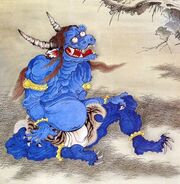 Called an "Oni" (鬼) in Japanese, it is usually translated as "Ogre", as the creatures are cultural analogues.
While the character originally described any sort of malicious supernatural entity, it came to be associated with large humanoid man-eaters.
Traditionally they are depicted with fearsome faces, often vibrant and unnatural hues of skin, horns, and wearing tiger-stripe loinclothes. They often also tend to carry a Kanabō - a spiked club.
While tending to have brutish natures, they are sometimes shown in a positive manner as protective spirits.
Community content is available under
CC-BY-SA
unless otherwise noted.