Bestiary Info
Edit
This beast-ghost guards the graveyard of wolves. It brings trouble to humans that step into its tribe's hunting ground. Its attacks are fast and deadly.
Etymology
Edit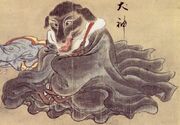 Canus is Latin for "Dog" or "Hound".
The Japanese name for Canus, Inugami (犬神) is a type of dog spirit that has the ability to possess people and objects. Capricious, they could bring either great luck, or misfortune upon a house.
Community content is available under
CC-BY-SA
unless otherwise noted.