Cat Morita
Shadow Hearts: From the New World
HP
500
MP
77
Element
Wind
Height
Abilities
Slow

Gale Blast

Location
Purramount Pictures
Immunities
Poison

Deadly Poison
Paralysis
Seal
Petrify
Slow
HP Down
P-ATK Down
Sp-ATK Down
Evade Down


Calories
-10
Cat Coins
N/A
EXP Gained
4200
Cash
1820
Souls Gained
0
Item Drops
Slow 2 (100%)

Lottery Ticket (100%)
Angel Souffle*

Snap Card
NOTE
-
The third enemy faced in Purramount Pictures.
Bestiary Entry
Edit
A famous actor, making a return to the screen after a long absence. His crane-stance won acclaim in many films. He is determined to make a big comeback.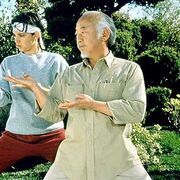 Cat Morita is a reference to actor, Noriyuki "Pat" Morita, perhaps best known for his role as "Mr. Miyagi" in the Karate Kid series of films, where he plays a karate master. Direct references include quoting the series famous line, "Wax on! Wax off" and calling Mao, "Daniel-san" (the name of the main character in the film).
Community content is available under
CC-BY-SA
unless otherwise noted.