Chingri Korma
Shadow Hearts: Covenant
HP
420
MP
50
Element
Fire
Weight
Light
Abilities
-
Location
Man Festival
Immunities
Paralysis

Seal
Petrify
Slow
Delay
Instant Death
P-ATK Down
Sp-ATK Down
Evade Down

EXP Gained
1
Cash
1
Souls Gained
1
Item Drops
Thera Root
NOTE
-
Curryman fought during the Man Festival
Bestiary Entry
Edit
Healthy and packed with plenty of nutritious vegetables, this gentle curry warrior uses only the freshest prawns for his seafood curry.
Etymology
Edit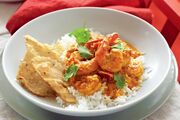 "Chingri" is a Bengali word used in Indian cooking meaning, "Prawn". Curries of this type are sometimes flavoured with coconut and yoghurt/milk.
A "Korma" is a none-to-lightly spiced curry, often containing yogurt or cream.
Its Japanese name "牛珈哩漢・甘口", shows it to be a beef, rather than prawn curry, meaning "Beef Curry: Sweet Sauce".
Community content is available under
CC-BY-SA
unless otherwise noted.