Cutlet Curry
Shadow Hearts: Covenant
HP
1120
MP
50
Element
Fire
Weight
Light
Abilities
-
Location
Man Festival
Immunities
Poison

Deadly Poison
Paralysis
Seal
Petrify
Slow
Delay
Instant Death
HP Down
P-ATK Down
Sp-ATK Down
P-DEF Down
Sp-DEF Down
Evade Down

EXP Gained
10
Cash
10
Souls Gained
10
Item Drops
Ashra's Earrings
NOTE
-
Curryman fought during the Man Festival
Bestiary Info
Edit
The perfect curry warrior, he has melded the ancient arts of yoga and curry. Having attained Enlightenment, he wishes only to pass it to others.
Appearances outside Shadow Hearts
Edit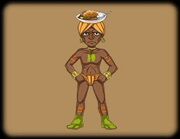 Cutlet Curry has also appeared in Chaos Wars, and is fought as one of the many cross-over enemies from the Shadow Hearts series.
Entry
An Indian fighter who has a plate of curry on his head. The Emperor of Curry has a juicy fired cutlet smothered with a rich, aromatic curry. He may be cocky, but likes puns and he can be funny once in a while.
Community content is available under
CC-BY-SA
unless otherwise noted.