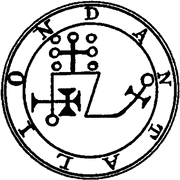 Description
Edit
Appears as an old man in robes. The Hundred-faced Man, his visage changes constantly. He lives in a tent to the west to avoid battle.
Where to find
Edit
Equipped by default to Anastasia
Solomon's Key Location
Edit

Wilderness of War, top row, far-left node.
Magic
Name
Base MP Cost
Description
Image
Ring
Pre-Completion
Arc Barrier
35 MP
Increases Special Defense for all allies
Post Completion
Bright Crime
32 MP
Small-area Light attack (high angle)
Etymology
Edit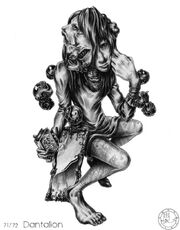 Dantalion is a Great Duke of Hell, with thirty-six legions of demons under his command.
He is depicted as a man with many faces, all of which are those of men and women.
His power is to teach all arts and science, read and change the mind of people, and teleport anyone to any place in the world.
Community content is available under
CC-BY-SA
unless otherwise noted.