Dog Guardian
Shadow Hearts: Covenant
HP
852
MP
310
Element
Dark
Weight
Heavy
Abilities
Delay

Evil Summoning

Location
Dog Shrine
Immunities
Paralysis

Seal
Petrify
Delay
HP Down
P-ATK Down
Sp-ATK Down


EXP Gained
4500
Cash
2180
Souls Gained
4
Item Drops
Pure Root
NOTE
-
Artificially-created dog spirit.
Built by humans and imbued with an evil spirit. It is extremely loyal to its master. However, when its master dies, it transforms into a murderous beast.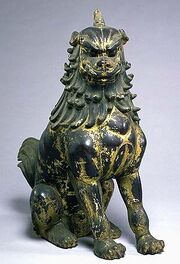 While its Japanese name, "犬蠱" (Possibly "ko-inu", roughly "Bewitched Dog"), appears to have no mythological basis, it visually resembles a "Komainu", a type of guardian statue that appears at the entrance of shrines, temples, and even homes.
They are more well known by their Chinese counterpart (and ultimate origin), the Guardian Lion-dogs - sometimes known as "Foo Dogs" in the West.
Community content is available under
CC-BY-SA
unless otherwise noted.