Dry Curry Man
Shadow Hearts: Covenant
HP
1120
MP
50
Element
Earth
Weight
Light
Abilities
-
Location
Man Festival
Immunities
Poison

Deadly Poison
Paralysis
Seal
Petrify
Slow
Delay
Instant Death
HP Down
P-ATK Down
Sp-ATK Down
P-DEF Down
Sp-DEF Down
Evade Down

EXP Gained
10
Cash
10
Souls Gained
10
Item Drops
Pure Extract
NOTE
-
Curryman fought during the Man Festival
Bestiary Entry
Edit
Having led a dry and uninteresting life up to this point, this 38-year-old curry warrior views the lives of his spicier curry cousins with great envy.
Appearances outside Shadow Hearts
Edit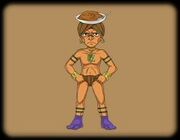 Dry Curry Man has also appeared in Chaos Wars, and is fought as one of the many cross-over enemies from the Shadow Hearts series.
Entry
An Indian fighter who has a plate of curry on his head. He may look dry when it comes down to business, but he's intensely passionate about curry.
Etymology
Edit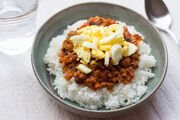 Dry Curry ("珈哩の乾") is a popular curry dish in Japan.
Its quicker preparation leaves the meat "drier", and with a texture similar to chili con carne.
Community content is available under
CC-BY-SA
unless otherwise noted.