Snake demon with a human being inside it.
Otherworldly snake that swallowed a pregnant woman whole and absorbed the fetus into himself. The human half is in agony and screams constantly.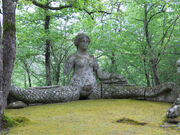 Echidna ("She-viper") is a Greek monster that resembles a woman with the body of a serpent.
Famously called, "The Mother of all Monsters", with her mate, the dread Typhon, she mothered many well-known Greek monsters, such as the three-headed dog Cerberus, the Hydra, and the Chimera, among many others.
She lived alone in a cave, and preyed on unfortunate humans who wandered too close. She was eventually killed by the multi-eyed giant, Argus, who killed her as she slept.
Community content is available under
CC-BY-SA
unless otherwise noted.