Eel Sushi
Shadow Hearts: From the New World
HP
570
MP
91
Element
Earth
Height
Abilities
Cure
Location
He-Man Sushi House
Immunities
Poison

Deadly Poison
Paralysis
Seal
Petrify
Slow
HP Down
P-ATK Down
P-DEF Down
Sp-DEF Down
Evade Down
Apathy

Calories
0
Cat Coins
1 Mackerel
EXP Gained
10
Cash
10
Souls Gained
1
Item Drops
Thera Extract (100%)
Snap Card
NOTE
-
Sushi house foe.
Info
[
]
Grape-vinegar sushi rice topped with eel and a sweet sauce. Tastes more like a snack than real sushi. This sweetie is a big hit with the girls.
Etymology
[
]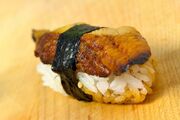 Eel Sushi's name in Japanese is "Kotteri anago nigiri" (こってり穴子握り) - which identifies the dish as having a "sea-water" eel, as opposed to a "fresh-water" eel as its base.