Egg Roll
Shadow Hearts: From the New World
HP
570
MP
91
Element
Non-Elemental
Height
Abilities
Dying

Poison
Mirage

Location
He-Man Sushi House
Immunities
Poison

Deadly Poison
Paralysis
Seal
Petrify
Slow
Instant Death
HP Down
P-ATK Down
Sp-ATK Down
P-DEF Down
Sp-DEF Down
Evade Down


Calories
0
Cat Coins
1 Mackerel
EXP Gained
10
Cash
10
Souls Gained
1
Item Drops
Pure Extract (10%)
Snap Card
NOTE
-
Johnny's sushi house foe.
An egg sushi with just a touch more of sweet sake for his son's birthday. Harbours a strong dislike of soy-sauce -- but don't expect him to say too much about why.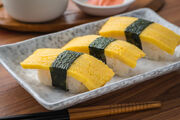 The Egg Roll's Japanese name, "Okosama wa tamago nigiri" (お子様は玉子握り) translates literally as "Child's Egg roll".
Community content is available under
CC-BY-SA
unless otherwise noted.