Enku
Shadow Hearts: Covenant
HP
165
MP
112
Element
Wind
Weight
Light
Abilities
Ring Abnormality

Gale Spike

Location
Purgatory
Immunities
Poison

Deadly Poison
Paralysis
Petrify
Delay
HP Down
P-ATK Down
Sp-ATK Down


EXP Gained
700
Cash
690
Souls Gained
2
Item Drops
Thera Root

Thera Extract (Rare)

NOTE
-
Bestiary Entry
Edit
Much like the Gaki, this cursed spirit's mouth is constantly afire so that it can neither eat nor speak without pain. Its bite causes horrible burning wounds.
Etymology
Edit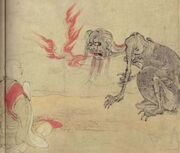 Enku appears to refer to a specific gaki, "Enkō" ("焔口", "Flame Mouth"), who appeared before Ānanda, cousin and disciple of the Buddha.
Enkō told Ānanda that he would transform into a gaki in three days, unless he demonstrated compassion, and fed total strangers.
Ānanda did so, and avoided his fate.
Community content is available under
CC-BY-SA
unless otherwise noted.