The most powerful key in the game, the Eternal Key is an item that allows for the user to spin their Judgment Ring an infinite amount of times, if the actions are successful. There is only 1 key in each game, so it's best to use it when you need it most.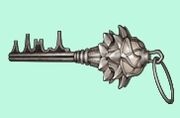 This most powerful item is forbidden to all except the gods, for it can stop time itself. For as long as you hit the Strike Area, the ring will spin.
Found: Neam Ruins
Drops: N/A
Purchase: N/A
Buy: N/A
Sell: 10
Shadow Hearts: From the New World
[
edit
|
edit source
]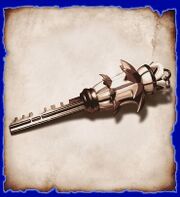 A key used by the Master God Platos to seal away his twin brother. Its gold can never dull. The Ring may be spun again infinitely if stopped in the Strike Area.
Found: Masotashi's Final Request (NG+)
Drops: N/A
Purchase: N/A
Buy: N/A
Sell: 10
Community content is available under
CC-BY-SA
unless otherwise noted.