Fatty Tuna Sushi
Shadow Hearts: From the New World
HP
570
MP
91
Element
Water
Height
Abilities
Seal

Rage

Location
He-Man Sushi House
Immunities
Paralysis


Seal
Petrify
Slow
Instant Death
HP Down
P-ATK Down
Sp-ATK Down
P-DEF Down
Sp-DEF Down
Evade Down
Apathy

Calories
0
Cat Coins
1 Mackerel
EXP Gained
10
Cash
10
Souls Gained
1
Item Drops
Daphne Fruit (100%)
Snap Card
NOTE
-
Mao's sushi house foe.
The sushi king. Market price varies, at times rising to hundreds of thousands of dollars per price. Its unpredictable price rouses fearful respect. An upper class tyrant.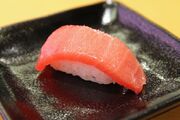 The Fatty Tuna's Japanese name, "Fūkaku tadayou toro nigiri" (風格漂うトロ握り) refers to the particular cut of the tuna - the centre part of the torso.
Community content is available under
CC-BY-SA
unless otherwise noted.