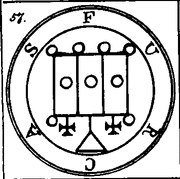 Description
Edit
Appears as an old man astride a blue horse. The greatest philosopher in all hell. He lives in the Boneyard near the Palace.
Where to find
Edit
Petrograd
Solomon's Key Location
Edit
Eternal Boneyard, bottom row, right node.
Magic
Name
Base MP Cost
Description
Image
Ring
Pre-Completion
Red Blaze
32 MP
Medium area Fire attack (hard hit)
Post Completion
Rage
12 MP
Increases Physical Attack for one ally
Etymology
Edit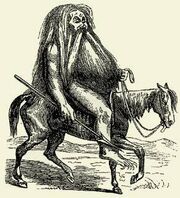 Furcas is a Knight of Hell, and rules 20 legions of demons.
He teaches Philosophy, Astronomy, Rhetoric, Logic, Chiromancy and Pyromancy.
He is depicted as a strong old man with white hair and long white beard, who rides a horse while holding a sharp weapon
Community content is available under
CC-BY-SA
unless otherwise noted.