Fuujin
Shadow Hearts: Covenant
HP
3540
MP
620
Element
Wind
Weight
Normal
Abilities
Sp-DEF Down


Anti-Armor Bomb

Location
The Vessel
Immunities
Poison

Deadly Poison
Paralysis
Seal
Petrify
Slow
Delay
Instant Death
HP Down
Sp-ATK Down
P-DEF Down
Sp-DEF Down
Evade Down

EXP Gained
65000
Cash
26000
Souls Gained
300
Item Drops
Sp-DEF Down 4
NOTE
-
Hien infused with the power of the Wind God.
Hien possessed by the power of the Japanese wind god. His scythe-like blade strikes with blinding speed, slicing the flesh of his enemies into ribbons.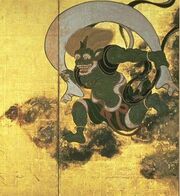 Fūjin (風神) is the Shinto god of the winds.
He is often depicted as a green ogre-like demon, with a shock of red hair, wearing a leopard skin loincloth or tunic, and carrying a large bag of winds on his shoulders.
He is often partnered with the god of lightning, Raijin.
Community content is available under
CC-BY-SA
unless otherwise noted.