Gaap
Shadow Hearts: Covenant
HP
7500
MP
860
Element
Non-Elemental
Weight
Light
Abilities
Paralysis


Shield
Rock Crest
Meteor Burst

Location
Black Forest
Immunities
Poison

Deadly Poison
Paralysis
Seal
Petrify
Slow
Delay
Instant Death
HP Down
P-ATK Down
Sp-ATK Down
P-DEF Down


EXP Gained
75000
Cash
30000
Souls Gained
300
Item Drops
Paralysis 4
NOTE
-
Price of Hell. Lord of Lies and Strategy.
Demonic Prince of Hell, Lord of lies and deception. His greatest pleasure is to reek havok upon the world with his wicked machinations.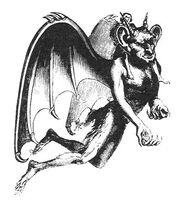 Gaap is a demon found in numerous occult texts.
In the demonic hierarchy, he has been variously assigned the rank of a King of Hell, or a Prince commanding twenty-five legions of spirits, or a President ruling over sixty-six legions of lesser demons and necromancers.
Community content is available under
CC-BY-SA
unless otherwise noted.