Enemy in Shadow Hearts: Covenant
Bestiary Entry
Edit
Dead spirit cursed for its sins to wander the earth forever without passing on to the Afterlife. Its horns and burning right hand are the marks of its sins.
Etymology
Edit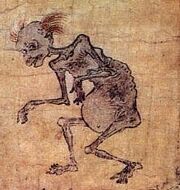 The Gaki (餓鬼) is the Japanese translation of "Preta" (Sanskrit,"प्रेत") a malevolent spirit of the dead, that suffers from an eternal thirst and hunger as punishment for transgressions in their previous lives.
They are often depicted as severely emaciated, but with distended, bloated bellies, and tiny mouths.
A common myth across Asia, depending on the local myths, they can eat either only food that has been blessed, or "unclean" substances (faeces, vomit, corpses, etc), though it can never quench their thirst, or assuage their hunger.
Community content is available under
CC-BY-SA
unless otherwise noted.