Gigafilaria
Shadow Hearts: Covenant
HP
135
MP
155
Element
Fire
Weight
Light
Abilities
Red Blaze

Magma

Location
Idar Flamme
Immunities
Poison

Deadly Poison
Paralysis
Seal
Slow
Delay
Instant Death
Evade Down
P-ATK Down
Sp-ATK Down
P-DEF Down
Sp-DEF Down
Evade Down

EXP Gained
500
Cash
700
Souls Gained
3
Item Drops
-
NOTE
-
Acts as intestinal bacteria in Idar Flamme.
Born from an Idar Flamme egg, its role within the castle resembles that of intestinal bacteria, breaking down invaders and turning them into nutrients.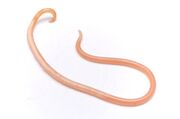 Giga is a Greek prefix meaning "Giant".
Filaria (Latin, "Filament", "thread") is a subclass of parasitic roundworms. They live inside the various body systems causing damage as they carry out their life-cycle.
Community content is available under
CC-BY-SA
unless otherwise noted.