Godhand
Shadow Hearts: Covenant
HP
1960
MP
0
Element
Earth
Weight
Heavy
Abilities
Petrify


Deadly Three

Location
St Marguerite Island
Immunities
Poison

Deadly Poison
Paralysis
Seal
Petrify
Delay
Instant Death
HP Down
P-ATK Down
Sp-ATK Down
P-DEF Down
Sp-DEF Down
Evade Down

EXP Gained
4400
Cash
4000
Souls Gained
95
Item Drops
Thera Extract

NOTE
-
Lenny after transforming into a huge god-like creature.
Lenny after drawing upon the power of the ancient and legendary creature, Godhand, who was named for the nearly divine power residing in its massive hand.
Although the name has no apparent basis in mythology or folklore, the term "Godhand" or "God Hand" appears *very* often in Japanese media. It tends to be the name of a person/monster, a weapon, or a specific attack.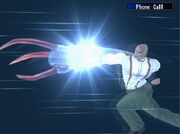 Lenny, as Johnny's butler, calls upon the power of the Godhand to send a blast of energy to damage his enemies.
Community content is available under
CC-BY-SA
unless otherwise noted.