Graffias
Shadow Hearts: Covenant
HP
320
MP
166
Element
Earth
Weight
Normal
Abilities
Petrify

Mind Assault
Rock Strike

Location
Queen's Garden
Immunities
Poison

Deadly Poison
Paralysis
Seal
Slow
Instant Death
HP Down
Sp-ATK Down
P-DEF Down
Sp-DEF Down
Evade Down

EXP Gained
2160
Cash
1500
Souls Gained
3
Item Drops
Thera Root

Mana Extract (Rare)

NOTE
-
Enemy in Shadow Hearts: Covenant
Bestiary Entry
Spirit of Graffias, furthest star in the Scorpio constellation. Normally in a state of peace, it strikes out with its tail spin if prey comes near.
Gallery
Eymology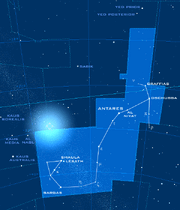 Graffias is the proper name for some stars in the constellations between Scorpius and Libra.
Currently it is the name for star β Scorpii, but in the past has been applied to ξ Scorpii, 48 Librae, and ζ Scorpii.
It's name appears to have its origins in the Lombardic language word, "krāpho", meaning "hook", or figuratively, "pincer claws".
Community content is available under
CC-BY-SA
unless otherwise noted.