Enemy in Shadow Hearts: Covenant and Shadow Hearts: From the New World
Bestiary Entry
Edit
Giant-sized version of the universally-despised bug. Aware of its effect on people, it often tries to stick its head right into one's stomach area.
Appearances outside Shadow Hearts
Edit
Gregor have also appeared in Chaos Wars, and are fought as one of the many cross-over enemies from the Shadow Hearts series.
Entry
Living fossils from 3 million years ago and humankinds most insipid enemy. They can go anywhere we don't want them to. Their deadly attack is to being with them hundreds of their allies and to fly toward human faces.
Etymology
Edit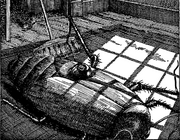 Gregor is named for the main character, Gregor Samsa in Franz Kafka's The Metamorphosis.
In the story, a travelling salesman wakes up one day to find himself transformed into a large insect-like creature, to his family's sheer revulsion.
Community content is available under
CC-BY-SA
unless otherwise noted.