Gregor
Shadow Hearts: From the New World
HP
155
MP
101
Element
Dark
Height
Abilities
SP Lowering

Poison
Meteor Burst

Location
Doll House
Immunities
Poison

Deadly Poison
Paralysis
Seal
Petrify
P-DEF Down
Sp-DEF Down
Apathy

Calories
-2
Cat Coins
1 Mackerel
EXP Gained
1090
Cash
145
Souls Gained
1
Item Drops
Pure Extract (1%)

Lottery Ticket (3%)

Snap Card
NOTE
-
Enemy in FTNW
Bestiary Entry
[
]
An insect loathed and abhorred by people. Its slimy body sends shivers through anyone who sees it. Continues to move even without its head.
Etymology
[
]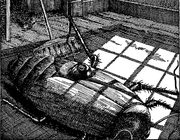 Gregor is named for the main character, Gregor Samsa in Franz Kafka's The Metamorphosis.
In the story, a travelling salesman wakes up one day to find himself transformed into a large insect-like creature, to his family's sheer revulsion.