Grimlock
Shadow Hearts: Covenant
HP
780
MP
215
Element
Dark
Weight
Light
Abilities
Heaven


Gale
Slow

Location
Rhondda Mine
Immunities
Poison

Deadly Poison
Paralysis
Seal
Petrify
Delay
Instant Death
HP Down
Sp-ATK Down
P-DEF Down


EXP Gained
425
Cash
1600
Souls Gained
65
Item Drops
Murmur Crest
NOTE
-
Demon born from the malice of dead coal miners.
Demon born from the collective negative energy of hundreds of coal miners who died tragically at young ages due to a mining accident.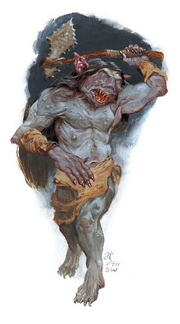 Grimlock is perhaps a reference to the creatures of the same name from Dungeons and Dragons, loosely based on the Morlocks from H.G Well's, The Time Machine.
They are monsterous humanoids that live in underground caverns, and shun the light of day.
And are described as pallid, with sightless eyes, and sharp teeth, with a craving for human flesh.
Grimlock's wings resemble human lungs, which may be a reference towards Black Lung, a common disease found in coal miners caused by the inhalation of coal dust
Community content is available under
CC-BY-SA
unless otherwise noted.