Man-made animal that protects garden treasures.
This artifically-created life form was first built to protect houses and shrines and is closely related to the Golem of Jewish legend.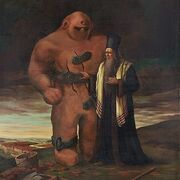 The Golem referenced in the Bestiary entry, and the visual appearance of the Guardian, is a type of automaton made from clay, and magically animated tablet or writing known as a Shem (שם).
Tradition states that on the Shem is written either one of the names of god, or the word "Emet" (Heb: אמת, "Truth") to bring it to life.
To deactivate the Golem, removing the letter Aleph (א) would leave the word "Met" (Heb: מת, "Death"), which would return it to inanimate clay.
Community content is available under
CC-BY-SA
unless otherwise noted.