Gug
Koudelka
Level
25
HP
5329
MP
384
Element
-
Weak
Absorbs
-
Nulls
-
Stats
STR
25
VIT
73
DEX
22
INT
32
PIE
62
MND
32
AGL
30
LUC
20
Evade
50
Magic Evade
50
Abilities
Punch*

Body Blow
Robocon Strike*

Drops
Shotgun RD
NOTE
-
Description
Edit
A being that broke through a dimensional barrier between the worlds. Completely alien in nature, it has a violent and agressive temper. It relentlessly attacks its enemies with its four stong arms.
This Boss is fairly easy, though you only have Koudelka to fight, she should have a lot of VIT and around 2,000 HP, so just attack it with Tornado, don't worry about running.
Etymology
Edit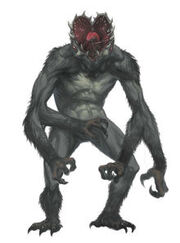 Gagu is a mistranslation of "Gug" , a creature from the Cthulhu Mythos that also appeared as a boss in Koudelka.
As described in "The Dream-Quest of Unknown Kadath", they are large, black-furred bipedal creatures, with four arms, and large vertically-orientated mouth at the top of its head, with two small pink eyes jutting out next to it.
Community content is available under
CC-BY-SA
unless otherwise noted.