Happy Creeper
Shadow Hearts
HP
250
MP
360
Element
Dark
Stats
P-ATK
80
P-DEF
0
Sp-ATK
110
Sp-DEF
8000
AGL
25
LUC
25
Abilities
Silence


Dark Messenger

Location
Kowloon Fortress
Immunities
Special Attacks
EXP Gained
450
Cash
600
Soul Worth
1
Item Drops
Pure Root
NOTE
-
Bestiary Info
Edit
Dark entity of Kowloon. Rumored to be Wugui's creation, based on the three demons of Kowloon. It wears bondage clothes.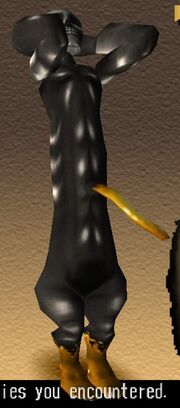 The Happy Creepers are immune to skills. They can cause Silence, so you should first focus on the Speckled Creeper of the group. Happy Creepers are always with a Speckled Creeper and they use skills instead of regular attacks. While their skills are strong, their normal attacks are quite weak, balancing out with the Speckled Creeper.
Community content is available under
CC-BY-SA
unless otherwise noted.