Hinogakutsuchi
Shadow Hearts: Covenant
HP
340
MP
265
Element
Fire
Weight
Normal
Abilities
-
Location
Asuka Stone Platform
Immunities
Paralysis

Seal
Petrify
Slow
Delay
Instant Death
P-ATK Down
Sp-ATK Down
P-DEF Down
Sp-DEF Down
Evade Down

EXP Gained
2700
Cash
1578
Souls Gained
3
Item Drops
Pure Root
NOTE
-
Incarnation of fire with a fiery-red body.
Feeding on the souls of humans it kills in forest fires, some say this demigod was the source of inspiration that lead humans to roast animal flesh.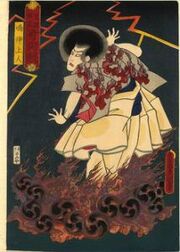 "Hinogakutsuchi" (火之加具土) is an alternative name for Kagutsuchi, ("カグツチ", "Shining Radient force") the Japanese god of fire.
His fiery birth killed his mother, Izanami, the goddess of creation. In despairing fury, his father, Izanagi, slew him, carving him into eight pieces that became volcanos.
Community content is available under
CC-BY-SA
unless otherwise noted.