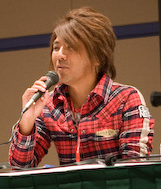 Hiroki Kikuta (菊田 裕樹) born August 29, 1962, is a Japanese video game music composer and game designer. His major works are Secret of Mana, Seiken Densetsu 3, Soukaigi, and Koudelka, for which he also acted as producer and concept designer.
He has composed music for seven other games, and worked as a concept designer in addition to composer for the unreleased massively multiplayer online role-playing game, Chou Bukyo Taisen. He became interested in music at an early age, but earned a degree in Religious Studies, Philosophy, and Cultural Anthropology from Kansai University. He spent the next few years working first as a manga illustrator then as a composer for anime series before coming to work for Square (now Square Enix).
After composing the soundtracks for his first three best-known works, he formed his own video game production company, Sacnoth, for which he was the president and CEO. After producing and composing Koudelka, he left to become a freelance composer. Since his departure he has formed his own record label, Norstrilia, through which he produces albums of his own compositions and collaborations with other artists, as well as his previous scores. His music has been performed in concerts such as the Symphonic Fantasies concerts in Cologne, Germany in September 2009, and selections of his works have been published as piano arrangements in sheet music books.
After Kikuta finished Soukaigi, he left Square and founded the video game development company Sacnoth, assuming the position of the president and CEO from 1998 to 1999. During this time, the company created Koudelka for the PlayStation; Kikuta was credited as the concept designer, game planner, scenario writer, producer and composer. His philosophy in designing video games is that the best projects have a limited number of people designing the overall experience and making key decisions. He tried to follow this philosophy in creating Koudelka, and tried to bring a sense of "obsessive passion" to the project, reading what he claims were over 100 books on British history and taking the design team on a trip to Wales to study the country. The game was released in December 1999 to poor reviews which criticized the game's combat system, though they praised the concept, art direction, and music. Kikuta left Sacnoth soon after; the company changed its named to Nautilus and went on to produce four more games including the Shadow Hearts series before folding in 2007.
Discography
Edit
Anime
Year
Title
Role
1990
The Adventure of Robin Hood
Composition
1990
The Legend of Snow White
Composition
Video games
Year
Title
Role
1992
Romancing SaGa
Sound effects
1993
Secret of Mana
Composition/arrangement
1995
Seiken Densetsu 3
Composition/arrangement
1998
Soukaigi
Composition/arrangement
1999
Koudelka
Composition/arrangement/concept design/game planning/scenario writing/production
2004
Sora no Iro, Mizu no Iro
Composition/arrangement
Chou Bukyo Taisen (canceled)
Composition/arrangement/concept design/game planning
2005
Sakura Relaxation
Composition/arrangement
Nidzuma wa Sailor Fuku
Composition/arrangement
2006
Tennin-So Kitan
Composition
Kaijinki
Composition
2007
Concerto Gate
Composition/arrangement
Other works
Year
Title
Role
1993
Secret of Mana+
Arrangement
2006
Lost Files
Composition
Kitan Celestial Grass
Composition/arrangement
Emperor of the Sea
Composition/arrangement
2007
Alphabet Planet
Composition
2008
In the Sky on the Water
Composition/arrangement
Love Relaxation
Composition/arrangement
Nice Life as Wife
Composition/arrangement
2009
DoDonPachi Dai-Ou-Jou Premium Arrange Album
Arrangement
2010
Tiara
Composition/arrangement
External links
Edit
Angel's Fear – Hiroki Kikuta's official website (Japanese)
kiss twice – Hiroki Kikuta's official blog (Japanese)
Community content is available under
CC-BY-SA
unless otherwise noted.