Housougami*
Shadow Hearts: Covenant
HP
556
MP
288
Element
Earth
Weight
Light
Abilities
P-ATK Down

Arc Shield
Rock Strike
Thorn

Location
Sea of Woods
Immunities
Poison

Deadly Poison
Paralysis
Seal
Slow
Delay
Instant Death
P-ATK Down
Sp-ATK Down
P-DEF Down
Sp-DEF Down
Evade Down

EXP Gained
4400
Cash
5
Souls Gained
3
Item Drops
Daphne Fruit
NOTE
-
A plague god that spreads disease.(*)
Creature found in Sea of Woods, in the Director's Cut edition of the game.
Rough Translation:
A bringer of plagues such as smallpox, and a variety of infectious diseases, while simultaneously possessing the knowledge to cure any disease he's spread. In exchange for the cure this baleful insidious spirit requests offerings of liquor and women.*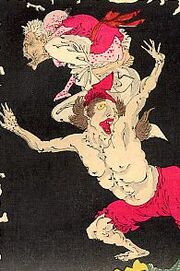 Housougami's name literally means "Smallpox God/Spirit", a type of malicious spirit which were said to be the bringers of the disease.
Community content is available under
CC-BY-SA
unless otherwise noted.