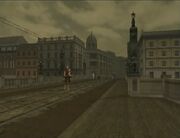 A small part of the capital, frequented when Yuri and his friends need to regroup after certain events.
The main area is the bridge. To the right is a park. This park has a few treasures, along with another wolf that Blanca can fight.
To the left of the bridge is a wrestling ring, where Joachim can learn another Muscle Art from the Great Gama. Near the ring is yet another shop.
Enemies Encountered
[
]
Enemies Encountered

Name

Notes

Koshoki

Limited encounters.

After The Vessel can be visited, the Man Festival also occurs in Nihonbashi.
Items
[
]
Shop
[
]
Ground
[
]
Treasure Chests
[
]
NPC Interaction
[
]
Enemy Drops
[
]
Wrestler Quiz
[
]
Lottery Members
[
]
No.07: Gambling Maniac Kanehira
[
]

Ring: Fickle

Gallery
[
]