Kerufe
Shadow Hearts: From the New World
HP
2380
MP
474
Element
Wind
Height
Abilities
Slow

Poison
Gale
Gale Blast
Pre-Ignition
Air Shot

Location
Machu Picchu
Immunities
Poison

Deadly Poison
Paralysis
Seal
Petrify
Instant Death
HP Down
P-ATK Down
Sp-ATK Down
P-DEF Down
Apathy

Calories
+10
Cat Coins
5 Scallop
EXP Gained
10000
Cash
6300
Souls Gained
130
Item Drops
Strike Expand (100%)

Shark Statue (100%)

Snap Card
NOTE
-
Boss Enemy in Shadow Hearts: From the New World
Bestiary Entry
Edit
Leaves a trail of destruction wherever she goes. Known as the Queen of the Insects for her hard outer shell. Loathes and longs to destroy all living things.
Battle Information
Edit
In this boss battle, Shania will not be available. For this boss, use instead someone that can cure or resist Status abnormalities since it will use Poison - a lot.
Ok first of all have Shell Braclets on! Do not under any circumstances fight her without them. She will use Poison like every turn! And having Deadly Poison is not fun. Anyways Kerufe may also attack with slow and with her having Gale as well is not a very pretty position to be in. And sadly Shania will not be in this battle either so use Arc Gale in shorten the turn interveal for you and Ricardo's Serenata Meteor Shower to stop her attacks with slow. Earth attacks or use Earth Edge are recommened since her attribute is earth.
Etymology
Edit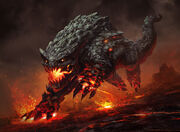 Kerufe is an alternative spelling of "Cherufe".
It is a large man-eating, reptilian humanoid creature from Mapuche mythology, said to live in magma bowls, deep within volcanos, and is the cause of both volcanic erruptions and earthquakes.
Community content is available under
CC-BY-SA
unless otherwise noted.