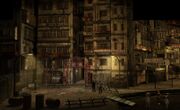 Kowloon Fortess is the Hong Kong home of Wugui, but has been taken over by Roger Bacon using Wugui's body to create life, possible this was part of his plan in using the Emigre Manuscript.
This place can be unlocked by choosing all the first comments that Alice uses when she is imprisoned by Dehuai. This place is not for the inexperienced, but cannot be visited once you finish Kuihai Tower. Lottery Member No. 10 is here, but only until you clear the boss.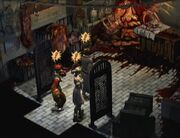 Upon entering the room, Yuri and Margarete express disgust, and Zhuzhen finds everything a bit out-of-place for a gangster boss. Roger Bacon appears, confirms the Taoist's suspicions, and sends a resurrected Wugui, Cursed Puppet, at the party.
Ring: Normal

Note: This lottery member is only active until after Wugui is defeated.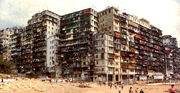 The Kowloon Fortress visited in-game is based on the real location of Kowloon Walled City, although the game developers took a little creative license by giving it the appearance of the Walled City of its later years, rather than the small outpost it would have been in 1915.
At its height, the population is estimated to have been anywhere between 30000-50000 people living in an area of only 6.5 acres (26300m²).
The structure was demolished in 1994 and turned into a park - although some small structures have been preserved.
Community content is available under
CC-BY-SA
unless otherwise noted.