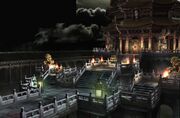 Dehuai's stronghold in Shanghai.
For all intents and purposes, it can be considered the final dungeon of the first half of the game. Lottery Member No. 09 appears here.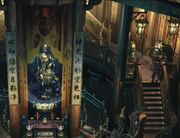 15 years ago before the events in Shadow Hearts began, Dehaui tried to attempt to use the power of the Demon's Gate Invocation to blast Japan out of the water to show that China is not some piece of land that can be divided for some other countires in the west.
But of course Ben Hyuga like Yuri tried everything in his power to stop Dehaui from completeing this dangerous ritual along with Zhuzhen and Mr.Zhen. But of course Ben could only stop the nightmare by sacrficing himself, but of course that didn't stop the chaos of massive earthquakes, tsunamis, and fires that occured in Shanghi, it even cost Dehaui half of his orginal limbs and possible his eye, but of course he retreated and began to plan and to try that same foolsih mistake that he did but get it right.
As the story continues we can see glimpses of the Kuihai Tower as Dehaui tries to get everything ready for the Demon's Gate Innovation. Like when Roger Bacon pays Dehaui a visit to the tower to see how the task is going. And when Dehaui summons his servant Wugui to help him complete his plan. And of course when Dehaui ultimatly steals Alice and sents her in his terrifiying machine.

Ring: Normal

Community content is available under
CC-BY-SA
unless otherwise noted.