Lemures
Shadow Hearts: Covenant
HP
110
MP
99
Element
Wind
Weight
Light
Abilities
Gale Spark
Location
Apoina Tower
Immunities
Poison

Deadly Poison
Paralysis
Seal
Petrify
Delay
Instant Death
P-DEF Down
Sp-DEF Down
Evade Down

EXP Gained
288
Cash
286
Souls Gained
1
Item Drops
Phoenix Tail

Pure Root (Rare)

NOTE
-
Enemy in Shadow Hearts: Covenant
Bestiary Entry
Edit
Spirit of a nobleman who died for a crime he didn't commit. Unaware of his own death, he still clings pathetically to his former authority.
Etymology
Edit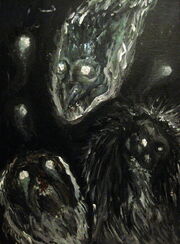 "Lemures" is Latin for "ghost" or "spectre", most often applied to the shades of the restless dead.
Formless, they could create a sensation of dread, and terrorize the living, through visitations, or loud noises.
The Japanese hirigana for the Lemures, "レムレス" ("Remuresu") can also be read as "Remorse".
Community content is available under
CC-BY-SA
unless otherwise noted.