Bestiary Entry
Edit
Immortal creature that migrated from China in ancient times. Because it suffers from bad teeth and other signs of old age, it eats only victim's innards.
Etymology
Edit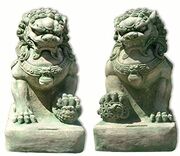 The English and Japanese name ("狂獅子", "Kyō-shishi", "Stone Lion"), are in reference to the decorative stone lions that guard various locations of importance, such as palaces, shrines, temples, and even some major residences.
They were believed to have a protective aura, and ward off evil-doers.
They were often mirrored and paired, with another stone lion; one female representing the taoist aspect of "Yin", her paw resting on a cub to symbolise "nuture", and one male, representing the opposing, but complimentary, "Yang", his paw resting on a sphere to symbolise dominance.
Community content is available under
CC-BY-SA
unless otherwise noted.