Located in a country in Western Europe. London is the capital of England and of the United Kingdom.
London is present only in Shadow Hearts, and contains just three areas the party can travel to.
Busy London town situated near the River Thames. The area also contains the home of the London Rats. This is the place where Yuri and the party start their travels in Britain.
Ring: Normal

Home to a small group of orphans who call themselves the London Rats, with Halley Brankett as their leader.
After completing the Orphanage, Sharon will give you access to Pit Fights, roughly the same as to what Zhen offered in Shanghai.
After the events of Calios Mental Hospital, she will only summon a single random monster. Only after the Neameto Float has risen are her fights fully unlocked.
Note: Pit Fight enemy order is randomised.
If the player completes the Pit Fights with all party members, they will gain an additional prize;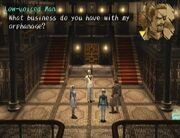 Formerly a mansion which belonged to Cardinal Albert Simon, whom at the time went by the false name of Roger Bacon. Eventually it was sold to a new owner named Jack, who turned it in to an Orphanage.
Ring: Normal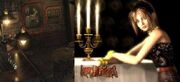 It should be noted that The London Rats are somewhat based off of characters from Oliver Twist.
A small easter egg of Koudelka can be found in the Pub; it is a picture of her that released to promote the Koudelka game.
Community content is available under
CC-BY-SA
unless otherwise noted.