Man-Snake
Shadow Hearts
HP
83
MP
200
Element
Earth
Stats
P-ATK
82
P-DEF
38
Sp-ATK
40
Sp-DEF
40
AGL
27
LUC
27
Abilities
Flying Stones
Location
Kuihai Tower
Immunities
-
EXP Gained
215
Cash
320
Soul Worth
1
Item Drops
Gold Hourglass
NOTE
-
Bestiary Info
Edit
Snake that ate more than 1000 babies that died from disease. Its eyes stop people in their tracks. Brings storms with its pig-like cries.
Etymology
Edit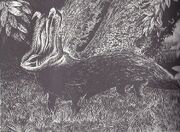 The Chinese reading of the characters in the Japanese game, 猪豚蛇, Zhū-tún-shé (literally "Pig-Boar-Snake") also known as the Chotonda, is a reference from a record written in the Song dynasty about a legendary unidentified animal.
It was described as having the squeal of a pig, a short hairy body about a metre long, four legs, and highly aggressive nature towards humans. A man-eater, it was later killed by a group of soldiers.
Community content is available under
CC-BY-SA
unless otherwise noted.