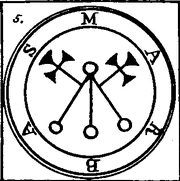 Description
Edit
Appears as a young man with gold skin and black hair. A builder, he erected one of hell's tallest towers. Lives besides Ronove.
Where to find
Edit
Defeat Yama Garan in Purgatory.
Solomon's Key Location
Edit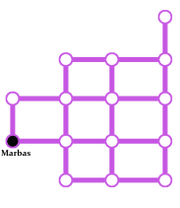 Spring of Wisdom, second row from bottom, left-most node.
Magic
Name
Base MP Cost
Description
Image
Ring
Pre-Completion
Gale Spike
64 MP
Medium area Wind attack (high angle)
Evil Summoning
64 MP
Large area Dark attack (high angle)
Post Completion
Air Edge
8 MP
Adds Wind class to one ally's Physical Attack
Dark Edge
8 MP
adds Dark class to one ally's Physical Attack
Etymology
Edit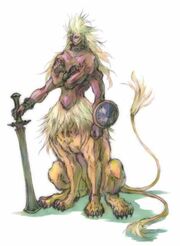 Marbas is described as the Great President of Hell governing thirty-six legions of demons.
He answers truly on hidden or secret things, causes and heals diseases, teaches mechanical arts, and changes men into other shapes.
He is depicted as a great lion that, under the conjurer's request, changes shape into a man.
Community content is available under
CC-BY-SA
unless otherwise noted.